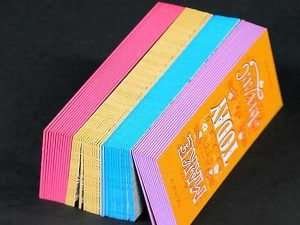 Painted Edge Business Cards are a modern way to reinvent your business card design, making them more visually appealing with the addition of thick painted edge cards. These cards are perfect for showcasing your creativity and innovative ideas, maximizing impact wherever you use them!
Unique and customizable: with these custom-painted edge business cards, the sky is the limit! Anything you can think of can be added to your print project. These designs are perfect for any industry or occasion that requires a professional appearance.
Painted edge business cards are much more dynamic than standard business cards. The glossy cards are designed to draw attention to your contact info, making it much easier for people to find you in a stack of other business cards.